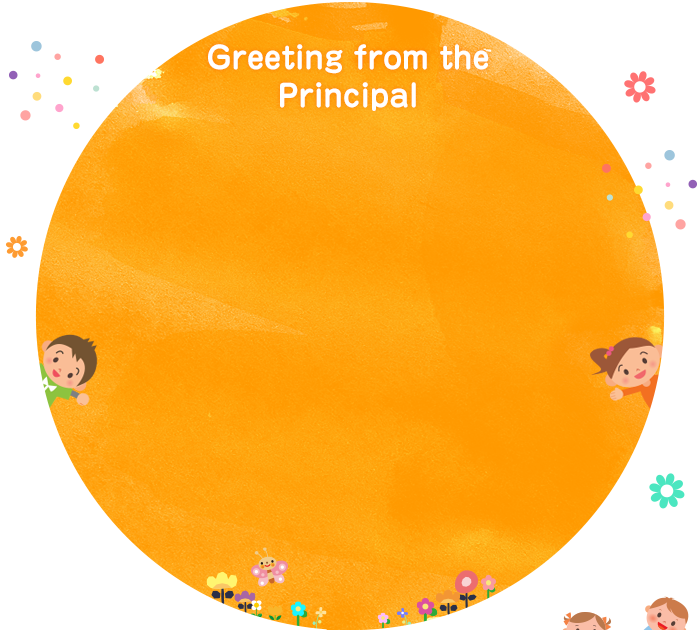 It has been said that living environments and
work styles have diversified over the years, and the
world is now a 24-hour society.
As a part of this society, Shuzenkai Night Nursery School
understands the thoughts and feelings of children and their
parents and guardians, and works hard to provide a nursery where children can always grow safely and enjoyably in order to lessen the burden and anxiety of parenting.

While caring for each child and accepting them as they
currently are, our goal is to help each one individually
develop the ability to thrive in this society, show
compassion for others and develop the skills
required to be independent.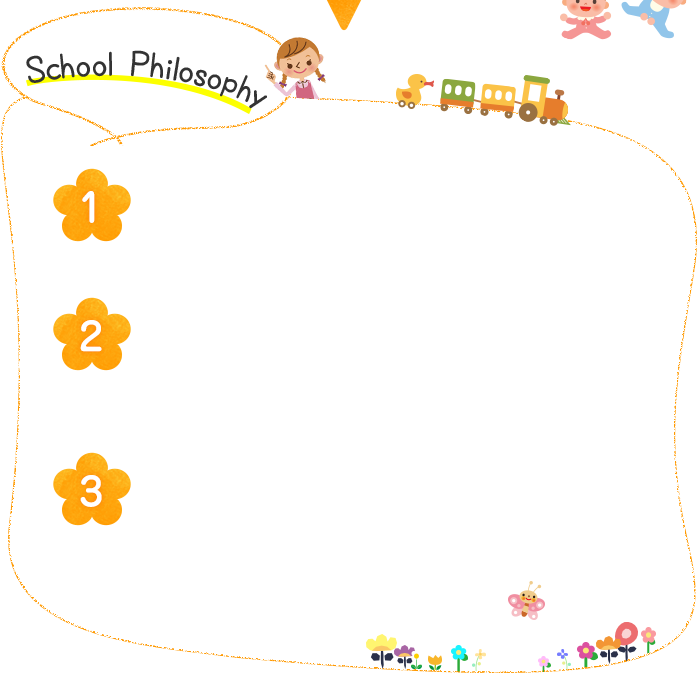 Provide careful, 24-hour care for each child in an environment prepared to be suitable for their stage of development
Develop healthy bodies and minds to nurture well-rounded children who display sufficient independence in a clean and safe nursery school
Establish a relationship of mutual trust with parents and guardians by thoroughly protecting their privacy and confidentiality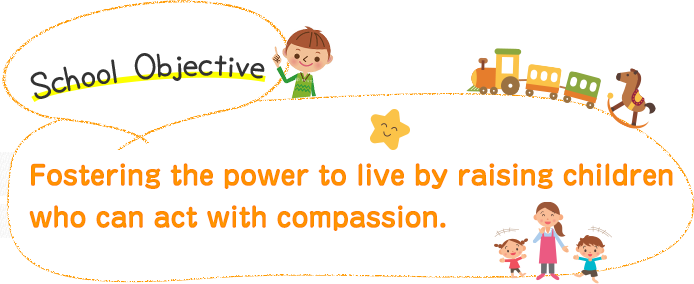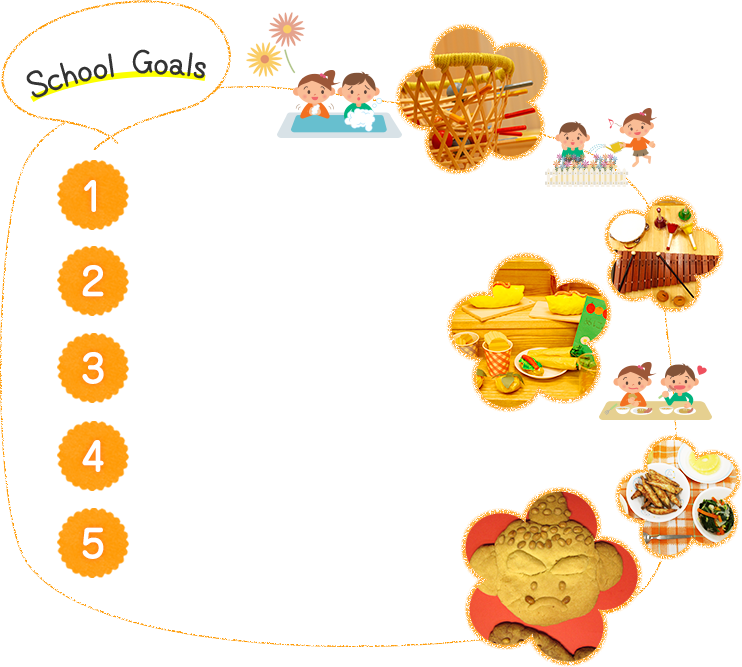 Foster independence in children
Encourage children
to challenge themselves
Show children how to
express themselves
Teach children how to play together
Help children overcome
their fear of new foods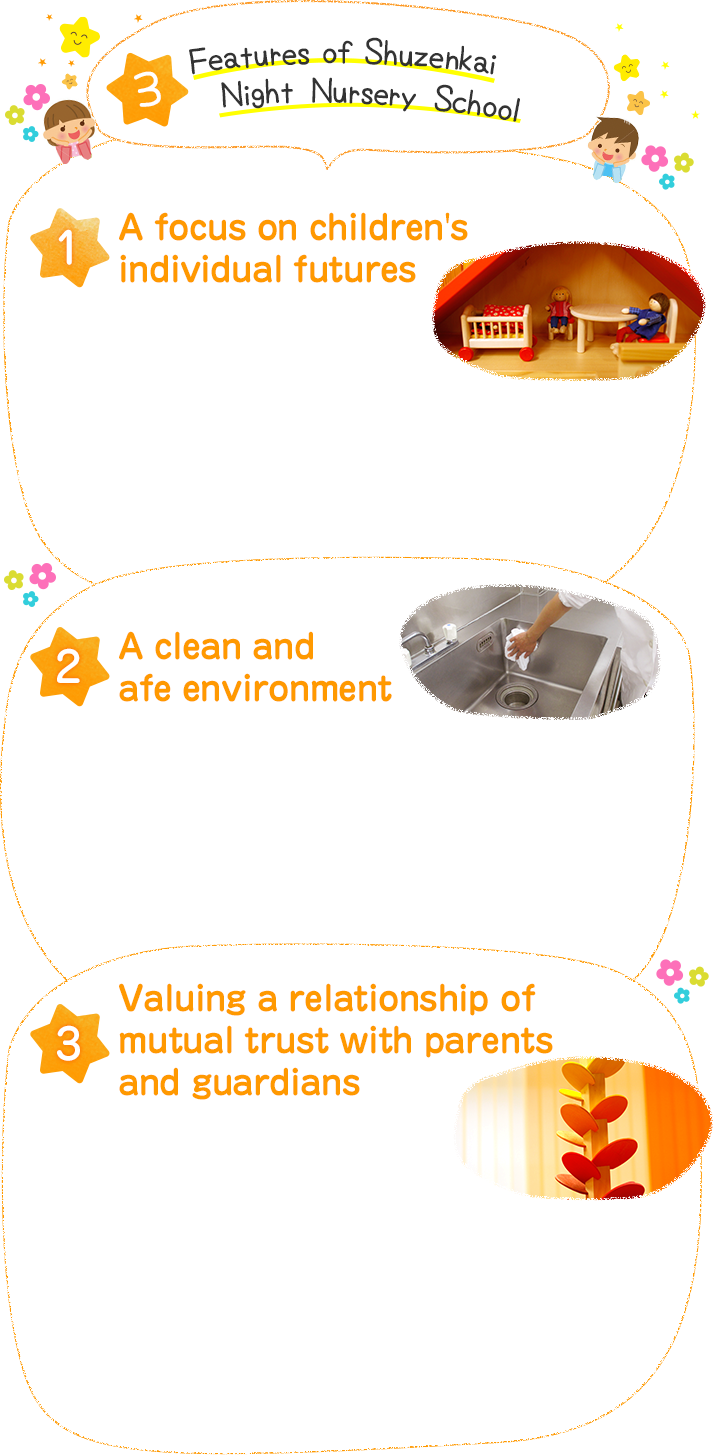 What children experience and are taught
during infancy form the basis of their
lives until adulthood. We not only care for
children by considering what they were like as infants, but also take
into account how they currently are, while looking forward to their individual futures and what kind of adults they will become.
Our goal is to foster the power to live, the ability to thrive in
modern-day society, compassion for others and independence.
By fully understanding each child's feelings, teaching them in
an appropriate manner and connecting with their hearts, we value providing a safe place where a deep level of trust can be developed.
We also keep a 24-hour record of each child's activity at the nursery
school to further develop our detailed and thorough care.
While keeping in contact with families, we work hard to provide continuous care.
While providing details about their child's
life at school and politely asking about how
they are acting at home, we maintain open
communication with parents and guardians. We work hard to provide
a safe nursery school that helps lessen the burden of parenting and carefully develop a relationship of mutual trust with parents and guardians. Our nursery school is a friendly place where children
and parents can come back to play and get advice even after
they graduate and enter elementary school and high
school/university.

Designed to create a cheerful and relaxing atmosphere overflowing
with the warmth of wood for safety and security. Every day, staff
disinfect the cubbies and toys that chidlren may touch to
maintain a sanitary environment.
We arrange outdoors activities and prepare educational
materials that match children's ages and development,
and figure out ways to foster children's curiosity and
creative urges during their time at the nursery school.
We use our desks and chairs by balancing
children's ages, bodies and development.
Our safe indoor play equipment is large with two floors
and rounded corners and each difference in level is
designed with children in mind.
Children can play in the house-like first floor, or look
out from the second floor to see what their
classmates are doing. Sometimes, they can even use
it as their own secret hiding spot. Children are
constantly finding new ways to play with it.
A large wooden barrel-shaped pit filled with lots of
smoothly-polished wooden balls.
Children can play by trying to keep their balance while
walking on top, or laying down and feeling the warmth of
wood with their entire body.
A fun place where children can play in a pool
and try to catch fish.
Also, the terrace has a retractable roof,
so it can be enjoyed regardless of the weather.
Every day, we select and read aloud picture books
and story cards appropriate for the children's
ages and level of development from our library of
over 2000 materials.
The children enjoy story time and naturally grow familiar with letters and numbers, deepening their interest in language.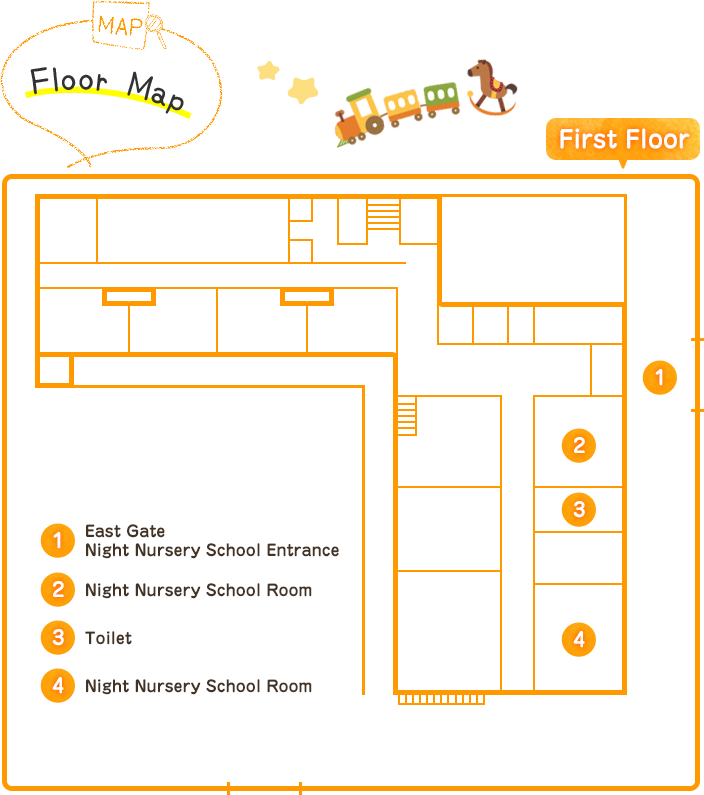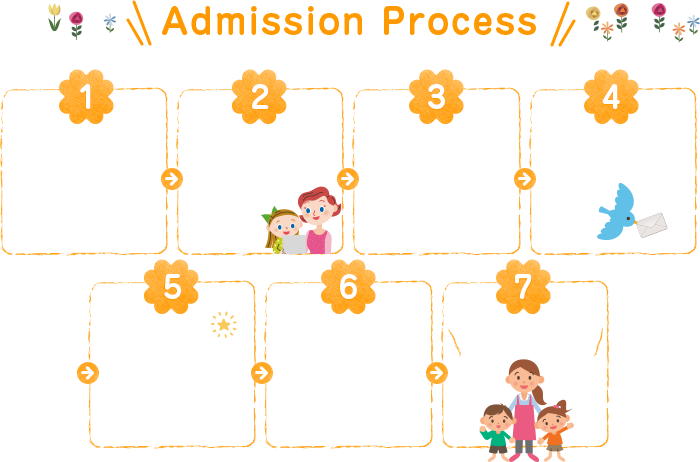 Receive necessary documents from ward office (Public and Child Welfare Division)
Read documents and select desired nursery
school
Submit application forms to ward office (Public and Child Welfare Division)
Receive admission notice by mail
Interview
Visit school/
purchase mate-
rials/other procedures
Physical examina-
tion by commiss-
ioned doctor
* Determined by nursery school

Admittance